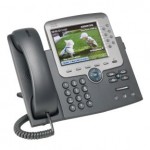 To describe how the VoIP and IP Telephony work we first need to see what components does VoIP network have. In that way we will be ready to focus on every one of them and describe what are they doing to make VoIP calls possible.
VoIP Components
IP phone – In order to send and receive voice calls, IP phones make use of a type of network connection known as Ethernet network connection. An example of IP telephony device is Cisco IP and Cisco 7975G phone on the first picture up here.
Gateway – A gateway is able to promote calls which take place between various networks. With the help of a gateway you can place a call between your IP phone and your office. You could also place a call to the PSTN to call your home.
Call agent – Most of the characteristics which were formerly a part of PBX have now been replaced by Call Agents. For instance, to approximately conclude how calls are routed, a call agent can be configured with the help of rules. An example of such a call agent is Cisco UCM (Unified Communication Manager)
Application server – Application Servers provide on the top services such as voice mail in a VoIP environment.
Gatekeeper – Gatekeepers can be metaphorically regarded as the traffic police of the WAN. The bandwidth in WAN network is usually not widely available and so, a gatekeeper can keep an eye on the amount of bandwidth which is accessible. And so, if such a situation occurs that the amount of bandwidth is not able to sustain another voice call, then the gatekeeper can reject all trials of such calls in the future.
Videoconference station – Videoconference stations are devices and/or software (such as Cisco Unified Video Advantage) that allow a calling or called party to view and/or transmit video as part of their telephone conversation.
Multipoint Control Unit – MCUs have been proved to be helpful when it comes to conference calling. Several people are talking together at the same time during a conference call. And everyone can listen to them. In order to mix these audio streams, it takes processing power to do so. Such a source of processing power is the MCU. MCU can contain DSP (Digital sound processor) which are devoted to the circuitry of the computer that is able to mix these audio streams.
Voice-enabled switch – A Cisco mechanism switch with voice feature is able to facilitate aligned power to a connected Cisco IP phone, thus there is no need for any outside power source connected to the IP Phone. And a switch with voice feature is able to distinguish between the voice frames which come from the connected IP phone and send those frames to advanced precedence then other frames.